Professor Angela Morgan receives prestigious NHMRC award
Professor Angela Morgan was awarded the prestigious Elizabeth Blackburn Investigator Grant Award (Leadership in Clinical Medicine and Science) at the 2020 NHMRC Research Excellence Awards last week in Canberra. It is presented annually to the highest ranked female applicant of the NHMRC's Investigator Grants scheme, placing Professor Morgan as one of the leading researchers in her field nationally.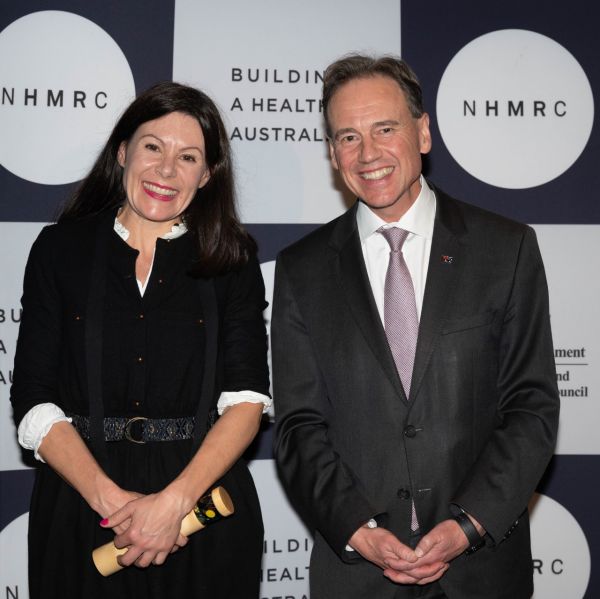 Professor Angela Morgan pictured with Minister for Health Greg Hunt at the 2020 NHMRC Research Excellence Awards
'I'm very honoured to have received the award and hope that it draws more attention to the field of childhood speech disorders' she said.
Professor Morgan has been recognised for her important work in understanding the genetic causes of speech disorders in children, and subsequent diagnosis and treatment. She says that advancements in genomic techniques over the past decade have transformed the field, allowing a better understanding of these conditions.
'For over a century, speech pathologists have been primarily focused on symptom management. Our team has been able to apply recently developed genomic methods to unravel the genetic basis of causation for children with speech disorders' she said.
Findings from this research are already having a real-world impact, with the discovery of new candidate genes for apraxia of speech supporting the work of a world-first speech genomics clinic at the Royal Children's Hospital. This enables clinicians to deliver diagnoses to families of children affected by genetic speech disorders.
'We've had some families who have been wondering why their child has a speech disorder for over ten years of their child's life. MRI scans and metabolic screens had failed to provide answers for them'.
'Not only does this burden the child, who must undergo intensive testing, but it also places pressure on the healthcare system at large. If we can deliver genetic diagnoses earlier, as we are doing at the Royal Children's Hospital and Murdoch Children's Research Institute, it reduces this pressure considerably' she said.
Research into the underlying causes of genetic speech disorders opens the door to better treatment practices. While a lot of work remains, gene editing and pharmacological interventions could target the perturbed gene pathway to improve the wellbeing of children experiencing speech disorders.
'We've made inroads in terms of understanding why, and now we can make inroads into thinking about targeting aetiology to improve outcomes for children – beyond just relying on treating the symptoms'
'I look forward to collaborating with researchers from multiple disciplines to support this effort going forward', she said.
The School congratulates Professor Morgan on this amazing achievement, and looks forward to hearing more about her work and research outcomes into the future.
The Melbourne Speech Pathology clinic offers a range of services to assist families who suspect their child may have a speech or language disorder. Click here to find out more.