Managing the Global Burden of Chronic Musculoskeletal Pain
Seminar/Forum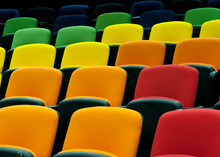 Ian Potter Auditorium
Kenneth Myer Building
Royal Parade
Map
More information
T: 8344 8455
2019 Miegunyah Distinguished Visiting Fellow Public Lecture
Musculoskeletal pain conditions such as arthritis and back pain are the most common causes of pain and disability in Australia and are major global public health concerns. They affect the bones, joints, muscles and connective tissues, stop people doing their everyday activities, lead to time off work, healthcare consultation and frequent medication use. The consequences are substantial in terms of the daily effort to self-manage, physical and psychological distress, and the struggle to meet family, social and work obligations. Together, they represent the largest single cause of years lived with disability, a disability burden that will rise further as the population increases and ages.
Healthcare for people with musculoskeletal conditions is mostly aimed at controlling pain and improving function and quality of life. At present, efforts to both prevent and manage musculoskeletal pain conditions are suboptimal with over-use of imaging, medications that have serious side effects and costly surgical procedures such as knee arthroscopy, despite evidence showing that they are not effective. On the other hand, safe and effective treatments such as exercise, weight loss and other pain self-management strategies are globally either inaccessible or under-used.
This lecture will provide an overview of the burden of musculoskeletal pain conditions, explore reasons for why healthcare is currently suboptimal and propose different ways that high-value healthcare can be provided in order to improve outcomes for people with these conditions as well as making the best use of limited healthcare resources. The lecture will explore the potential of combining healthcare strategies with strategies from other sectors including public health and industry. Greater focus on prevention strategies and approaches that maximise self-management are likely to be particularly important for the future.
Presenter
Professor Nadine Foster

NIHR Professor of Musculoskeletal Health in Primary Health
Keele University

Nadine is an NIHR Professor of Musculoskeletal Health in Primary Care at Keele University, Staffordshire, United Kingdom, and Director of Keele Clinical Trials Unit. She leads the Musculoskeletal Health and Pain research programme within the Arthritis Research UK Primary Care Centre in the Research Institute of Primary Care and Health Sciences and is an NIHR Senior Investigator. Her research focuses on the commonest musculoskeletal pain conditions, including low back pain and osteoarthritis and whilst her research programme utilises many research methods she has a particular interest in developing, testing and implementing treatments and services for patients with musculoskeletal pain. She has led or collaborated on more than 19 randomised trials, with funding support from Arthritis Research UK, the Medical Research Council and the National Institute for Health Research (NIHR). She leads an NIHR Programme Grant for Applied Research on stratified primary care for patients with musculoskeletal pain (STarT MSK) and an NIHR Health Technology Assessment (HTA) funded trial testing stratified care for patients consulting in primary care with sciatica (SCOPiC). Nadine is the lead NIHR training advocate for physiotherapy and Past President of the Society of Back Pain Research. She chairs the NIHR Research for Patient Benefit funding panel in the West Midlands, and has previously served on HTA funding committees and the Arthritis Research UK Pain Clinical Studies Group. She has over 180 peer reviewed publications, supervised 13 PhD students and contributed to over £35 million in research funding.