Bio21 Big Picture Seminar: "BioCurate – your partner for turning discoveries into therapeutics"
Free Public Lecture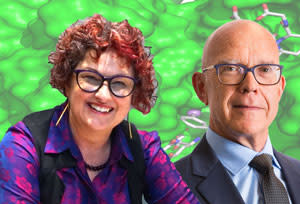 Bio21 Institute auditorium
David Penington Building
30 Flemington Road
Map
The University of Melbourne and Monash University together recognised the opportunity to take advantage of the outstanding research that occurs in Melbourne. BioCurate's projects can address a genuine unmet need that has little commercial value, or target a disease of commercial interest. The issues that have been seen are common to academic research around the world, and include challenges with IP strategy, differentiation, and path to commercialisation. Hear from CEO Glenn Begley and the BioCurate team how they are well-placed, and excited to offer translational-support to the Melbourne academic community.
Presenters
Dr Lorna Mitchell

Senior Project Leader, BioCurate
BioCurate

Dr Lorna Mitchell is a medicinal chemist with 17 years international drug discovery experience in the biotech and pharmaceutical industry. Lorna is passionate about delivering high quality clinical candidates and has experience across a range of therapeutic areas including oncology, neuroscience, antivirals and dermatology. Lorna started her industry career, and training as a medicinal chemist, at Pfizer. She continued to grow her skillset within Pfizer for nearly 10 years at sites in both the USA and the UK before moving into the biotech arena. Lorna worked in various Boston area biotech's for 7 years, with most of that time at Epizyme, before she relocated to Australia in 2017 as head of medicinal chemistry at Bionomics. Lorna completed her Ph.D. in organic chemistry at The University of Auckland in New Zealand and carried out postdoctoral studies at the University of Rochester in the USA and the Auckland Cancer Society Research Centre (ACSRC) in New Zealand. In October 2018, Lorna joined BioCurate Pty Ltd, an exciting initiative established by the University of Melbourne and Monash University as a venture catalyst to accelerate university discoveries into investmentready biopharmaceutical candidates. As Senior Project Leader she works closely with the inventors, supports the Universities to help build their capability in translational research and liaises closely with other key players required for the successful commercial development of projects.

Dr Cathy Drinkwater Drinkwater

Senior Project Leader, BioCurate
BioCurate

Cathy has extensive experience in both academic research and industry drug development. Following a PhD started at RSBS, Australian National University, and completed at the Howard Florey Institute (University of Melbourne), Cathy went on to postdoctoral fellowships at Stanford University School of Medicine and the Walter and Eliza Hall Institute of Medical Research. Since the midnineties, Cathy has worked in the commercial sector, as: Principal Scientist at Amrad Corporation, Melbourne; Principal Scientist & Research Project Manager, Zenyth Ltd, Melbourne: this role included preclinical development projects with GSK and Cambridge Antibody Technologies (now MedImmune); Project Manager at CSL Limited, Melbourne: managed alliances and preclinical development programs with Sanofi, Merck & Co (known as MSD in Australia), and Astra Zeneca/MedImmune. Portfolio and Project Manager, Catalyst Therapeutics Pty Ltd: hit discovery and lead generation drug discovery projects. From 2010 – 2017 she worked at the interface between academia and Industry, with the Cancer Therapeutics CRC, where her role included Project Management of several Discovery and Preclinical projects and Alliance Manager on the PRMT5 collaboration with Merck & Co (known as MSD in Australia), subject of the largest preclinical deal in Australia at that time. In November 2017, Cathy joined BioCurate Pty Ltd, an exciting new initiative established by the University of Melbourne and Monash University as a venture catalyst to accelerate university discoveries into investmentready biopharmaceutical candidates. As a Senior Project Leader at BioCurate, Cathy manages projects internalized from the Universities, working closely with inventors and CROs to ensure rigorous and timely outcomes.

Dr Glenn Begley

CEO
BioCurate

Dr Begley is the inaugural CEO of BioCurate, a joint initiative of Monash and Melbourne Universities and created to provide commercial focus in the early phases of drug development. He served as Chief Scientific Officer at Akriveia Therapeutics, California (20162027) and TetraLogic Pharmaceuticals, Pennsylvania (20122016). From 20022012, he was VicePresident and Global Head of Hematology/Oncology Research at Amgen, responsible for building, directing and integrating Amgen's 5 research sites. It was at Amgen he identified and highlighted the issue of research integrity and scientific reproducibility which has subsequently received considerable international attention.Before Amgen he had over 20 years of clinical experience in medical oncology and hematology. His personal research focused on regulation of hematopoietic cells and translational clinical trials. His early studies first described human GCSF, and in later clinical studies, first demonstrated that GCSF"mobilized" blood stem cells hastened hematopoietic recovery. This finding revolutionized the clinical approach to bonemarrow transplantation.His honors include being elected as the first Foreign Fellow to the American Society of Clinical Investigation in 2000, to the Association of American Physicians in 2008, to the Research "Hall of Fame" at his alma mater, the Royal Melbourne Hospital in 2014, and to the Australian Academy of Health and Medical Sciences in 2016.