Breaking Through the Ice: Science and Leadership in Antarctica
Seminar/Forum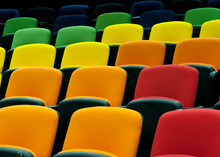 The Auditorium
Peter Doherty Institute
Grattan Street
Map
Paediatric infectious diseases physician Dr Sarah Hanieh will present on her recent expedition to Antarctica and participation in the Homeward Bound Project.
The Homeward Bound Project is the largest all-women expedition to Antarctica, and a leadership, strategic and science initiative for women in science, technology, engineering, mathematics and medicine (STEMM). The program aims to heighten the influence and impact of women in science on policy and decision-making.
This seminar presents key scientific and leadership lessons from a voyage to the end of the world.
Presenter
Dr Sarah Hanieh

Paediatric Infectious Dieseases Physican
Peter Doherty Institute for Infection and Immunity

Sarah is a NHMRC Early Career Research Fellow in the International and Immigrant Health Group at the Doherty Institute. Sarah has worked in maternal and child health for over 16 years in a clinical, research and policy capacity with a number of nongovernmental, academic and other international institutions including Medecins Sans Frontieres and the World Health Organization. She has previously spent time working in Nepal, Papua New Guinea, Liberia, South America, Ethiopia and Vietnam, as well as in Aboriginal communities in the Northern Territory. Sarah was awarded both the Chancellors Prize and Dean's Award for Excellence in a PhD thesis in 2016 and received a fouryear NHMRC Early Career Research Fellowship. Her current research focuses on developing a predictive algorithm to identify infants at high risk of stunting in resourceconstrained settings, and investigating the link between the gut microbiome and child undernutrition.